How to create
Code Sign Files

for your iOS App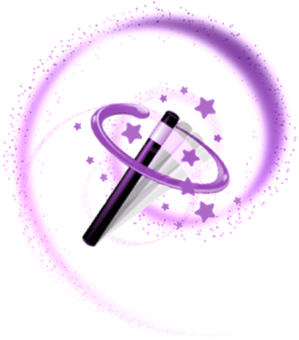 To successfully build an iOS App (for iPhone or iPad devices), you must first create the necessary 'Code Sign Files'.
In this tutorial we'll explain how to generate these files from start to finish, for incorporation into your App as part of the build request process.
Note:
To create these files you must an Apple Developer Account established and have access to an Apple Mac computer.
The 'certificate signing request' (.CSR) file is generated using the 'Keychain Access' App on your Mac computer. Find and open 'Keychain Access' on your Mac.
Once the Keychain App is open, click 'Keychain Access' (top left of screen), then select 'Certificate Assistant', then select 'Request a Certificate from a Certificate Authority', as shown in the image below.

In the window which opens next (as shown below), please enter the email address which is registered / associated with your Apple Developer Account in the 'User Email Address' field.
Note: If you use a different email address, the build will fail. The email address entered must be the same as the email address on the Apple Developer Account under which the App is intended to be published.
Next, enter the first name and last name of the person registered / associated with the Apple Developer Account in the 'Common Name' field (for example, John Appleseed). Entering a different name won't result in a build failure.
Next, leave the 'CA Email Address' field blank.
Next, select the 'Saved to disk' radio button from the options available under the 'Request is' section.
Next, ensure you leave the 'Let me specifiy key paif information' check box unchecked.
Now click 'Continue'. You will be prompted to save the .csr file on your computer at a location of your choosing. Make sure you know where you saveed it!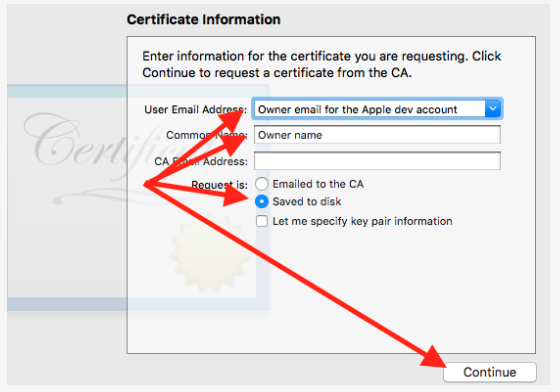 Congratulations. The .CSR file generation process is now done. The file you created will be named 'CertificateSigningRequest.certSigningRequest'. You will need to use in the next step when you create the iOS Distribution Certificate, as described below.